Employment and Support Allowance medicals
I just want to say thank you to everyone here For the time you all put in and the fantastic advice you all give… they have placed me in the Support group i will next have another assessment in 3 years... I have followed your templates here religiously…With out your knowledge and kindness here i doubt if id had enough confidence and knowledge to get through this assessment…
I will be renewing my membership as soon as this one finishes.
No-one can be found capable of work unless they've first been given the chance to attend a medical carried out by a private sector company called Maximus.
In May 2021 the DWP announced that medicals would either be by phone or video unless there was no other option to carrying out a face-to-face one. Our members guides contain detailed information about how to deal with these types of medicals.
Many people are very unhappy with the way their medicals are carried out. They complain that the doctor or nurse spends most of the time staring at a computer screen and clicking with a mouse. They say that they are asked questions that seems confusing and irrelevant and the doctor or nurse seems to have very little interest in the answers they are given.
Often, when people appeal against a decision about their ESA and are given a copy of their medical report, they are astonished by what it contains. They say it doesn't seem to be about them and includes things that they are quite certain they didn't say.
Pitfalls
Benefits and Work can't do anything about the standard of some medicals, but we can help you prepare for – and hopefully avoid – some of the biggest pitfalls. For example:
We explain the enormous importance of how you travel to the medical.
We tell you what sort of questions you'll be asked.
We explain the sort of unfair assumptions that can be made based on your answers and how to guard against them.
We tell you about the sort of observations the doctor may make before, during and after the medical.
We explain how the software the doctor uses works and show you screenshots of what the doctor is looking at on their computer.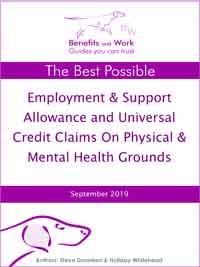 You can download sample pages from the Guide to Employment and Support Allowance and Universal Credit claims (Full guide 134 pages A4, September 2019).
Thank you very much for all of the guides on this site. Without them I don't think I would have been put in the support group…Thank you Benefits and Work!
Our members can also download a detailed guide to pathways to work (work-focused) interviews.
Don't miss out on benefits you're entitled to because of an inaccurate medical assessment. Become a Benefits and Work subscriber and download all the guides you need as often as you need for a year. And, remember, our 7 day money back guarantee means there's no risk involved.
Read members' feedback about our guides.