Do you need to understand more about PIP?
"An essential course for anyone completing a PIP2 form."
Do you worry that your clients are not getting the award that they should because it is so challenging to make their issues fit the PIP descriptors?
Or do you want the chance to test your understanding of PIP, because getting your own claim right is absolutely vital?
If so, our PIP On-Demand training may be just what you need.
With a mixture of text, slides, videos, case studies and quizzes, our courses are interactive, keeping you motivated and engaged.
And there's always support from a welfare rights worker available to help you, if there's anything you are struggling with.
Plus we've made it as affordable as possible, with individual modules costing just £7.50 for claimants. There's even a 20% reduction Benefits and Work members.
Find out more about our easy-to-follow online courses that you can take at your own pace and at a time that suits you.
You could even get started in the next two minutes!
"Thanks for the pip training.. invaluable!! I have received pip renewal for the next 4 years. I used your wording from the training.. such as I didn't feel I could complete the task in a safe, timely or repeated manner for more than 50% of the time . . .I also put down as my "aids" which help my condition an app that tracks my mood in order to help me know when I need to ring the GP. I also put down the calm app which helps me relax when I'm stressed as this is my trigger to ill mental health . . . I would never of thought to put those as "aids" unless I had watched the training video . Many thanks !!"
PIP training video
You can watch a short video about our on-demand training.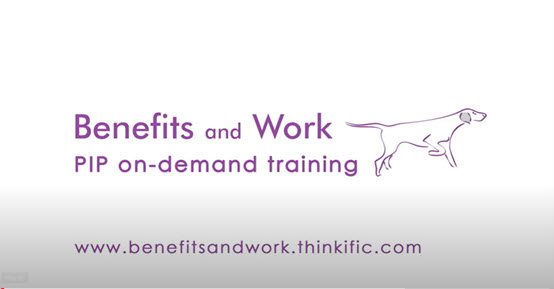 Who should use our PIP training?
You might be a professional who supports service users with PIP claims.
Or perhaps you're a claimant and you've found yourself helping friends, relatives or other claimants with completing the PIP2 'How your disability affects you' form.
Maybe you regularly answer PIP queries on forums.
Or there could be a particular aspect of PIP, such as reliability, which is vital to your claim and you want to be certain you understand it completely.
Whatever the reason you decide to begin our training, you can be sure you won't be left unsure because there's a particular issue that you don't understand. There's a practising welfare rights worker available to answer any queries you have about the content of the course.
"Well rounded, informative and clear. Brilliant."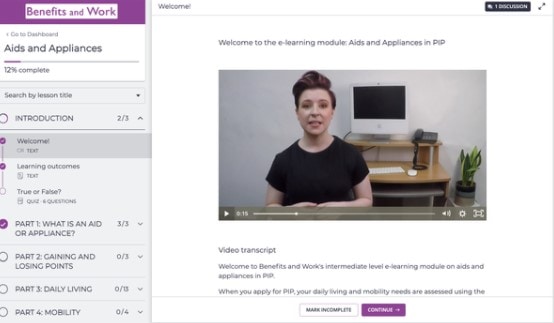 Try our on-demand PIP training
Our invaluable PIP elearning modules cover some of the most important and challenging aspects of PIP regulations.
They allow you to understand the topics in-depth and to test your learning with interactive quizzes.
You can watch videos as often as you need, redo exercises and retake quizzes until you are certain you understand the subject.
And we've ensured that on every page there's a discussion box where we guarantee you will get an answer to any question you might have about the training, so you'll never be left confused or uncertain.
Our on-demand modules currently cover the following topics:
Introduction To PIP
The 'How Your Disability Affects You' Form
Attending The Assessment
Aids And Appliances
Reliability And Fluctuating Conditions
PIP Mobility And Mental Health
PIP mobility and physical health
Pricing
The lessons are available as individual modules or in a bundle, with different pricing for claimants, professionals and groups of professionals.
And just like the Benefits and Work guides, our e-learning comes with a no-quibble money-back guarantee. If the training isn't right for you, just contact us within 7 days of purchase for a full refund.
What's more, if you purchase a single module and then go on to buy the whole bundle within one month, just contact us and we'll refund the cost of the first module.
"An excellent learning tool"
Claimants and carers
Claimants and carers can purchase individual modules for £7.50 each.
Or the bundle of 6 modules for just £34.
And, better still, if you are a Benefits and Work member, you can pick up a 20% discount code from the PIP members page.
This brings the prices down to £6.00 and £27.20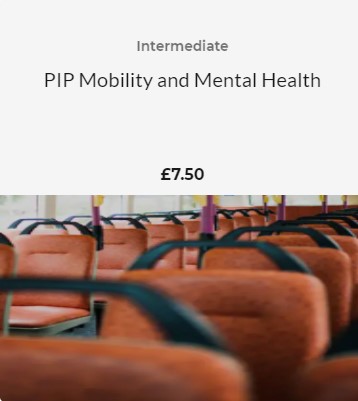 Professionals
If you are purchasing the training for your work, the cost of individual modules is £19.50 and the full bundle costs £95.00.
The 20% off coupon on the PIP members page will bring the prices down to £15.60 and £76.00.
As a professional member you will receive a personal certificate for each module you complete.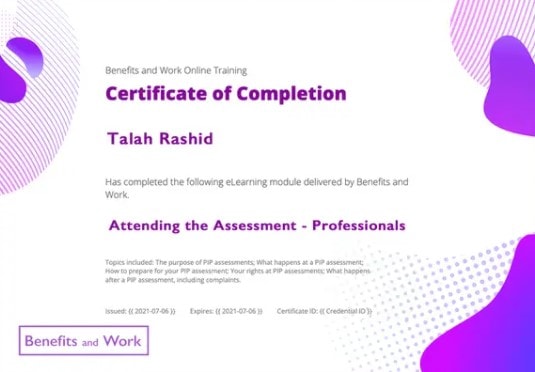 Professionals Plus
If your organisation would like up to 5 training places, our Professional Plus membership costs just £245.
With the members' discount it's just £196.00 for training for 5 staff members.